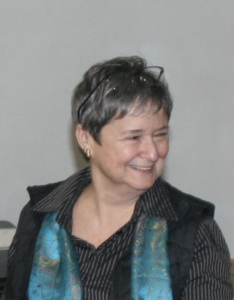 We know Anne-Claude Lambelet as a caring and knowledgeable leader who gets things done with efficiency and effectiveness. Her well-organised workshops, webinars and annual general meetings truly ran like clockwork and SIETAR Switzerland really shone under her guidance. The new board has an excellent role model in her and is most grateful for the journey she has travelled with SIETAR Switzerland over the years. This is an opportunity to let you know a little bit more about the great person behind our past president.
Anne-Claude Lambelet has lived and worked internationally all her life. She has extensive first-hand knowledge and understanding of various cultures and countries in Europe, Australasia and Africa. A French national, born in Vietnam, who spent her childhood in Cameroon and Australia, she has really experienced what it is like to live in other cultures. Further, she has over 20 years of successful experience in high-level expatriate management, support and training, and is a recognized trainer and coach for intercultural issues.
A founding board member and treasurer of SIETAR Switzerland, she became Vice President in 2014. She then held the position of President SIETAR Switzerland from 2015 to 2019. We are most grateful that she is now an active member of the Past Presidents' Advisory Committee and shares her vast experience with the current board. She is currently managing the SIETAR Global Connect Group, which incorporates presidents from all SIETAR national and supra-national associations. Moreover, she coordinates SIETAR Switzerland's participation and engagement in the Swiss Student Union Perspective Studies Project, which aims at facilitating access to higher education in Switzerland for refugees. She has also been a very dedicated mentor over the years to many SIETAR Switzerland members.
When Anne-Claude is not working on intercultural topics, she enjoys reading novels in French and English by authors from all national cultures – a vast personal project and one which she says she has "only scratched the surface of!" And she follows a personal lifelong interest in Buddhism. Travelling and experiencing other cultures firsthand is also on the agenda as soon as travel is again permitted. In the meantime, when she isn't advising the board and leading SIETAR Global, a glass of excellent wine or a square of fine chocolate is savored appropriately along with a good book.
This quote from Anne-Claude reminds us of so much of what she stands for and has worked so hard to bring into SIETAR Switzerland.
"In this age of globalization and migration, our societies are increasingly more diverse. Whilst these new forms of diversity create new opportunities, they also raise many challenges, such as intolerance, prejudice and misunderstanding, social fragmentation and violent extremism. All of this, undoubtedly, raises new questions about the meaning of 'progress' and the foundations for peace and sustainability, for interculturalism and respect for human rights and fundamental freedoms." Anne-Claude Lambelet, https://sietar.ch/past-presidents/
Thank you Anne-Claude!
Submitted by
Sabine Baerlocher, President SIETAR Switzerland
Jillaine Farrar, Vice-President SIETAR Switzerland