submitted by Lucy Antrobus, Founder and CEO, Refugee Voices, Switzerland
It has been a rollercoaster ride for Refugee Voices during this period of confinement. Our organisational purpose is built on human connection and unlocking potential, facilitated through group interaction and experiential learning. As such, we were concerned about the impact on our activities. To our delight, the team bounced back very quickly, and in classic Refugee Voices style, found new sources of inspiration with innovative ways to pivot our focus, whilst drawing attention to what we do: shining a light on the needs of marginalised communities and the inherent importance to continue reaching out despite (the physical) barriers of connection.
We started the year with a series of storytelling workshops, hosted by the Grand Théatre de Genève and in collaboration with Association Antidote, to prepare a group of refugees to take the stage in the opera "Voyage vers l'Espoir" (which speaks about the struggles and triumphs of a family fleeing Turkey and seeking asylum in Switzerland). In just six sessions, we saw a remarkable transformation in confidence, and emergence of new budding performers to the Geneva region. « C'est une ambiance qui nous a vraiment beaucoup touché et que nous a donné beaucoup d'énergie positive » Mustafa, participant
Reacting to the covid crisis meant we needed to act boldly and creatively – which we love ! In a few short weeks, we had implemented virtual workshops with our partners the SINGA Entrepreneurship Factory and Powercoders. Now we are underway with the launch of our flagship programme virtually. While there are limitations, we have adapted our workshop strategy to maintain both the intimacy of one-on-one/small group contact, as well as leveraging the energy of the full group. We seek to bring our programmes to further communities who can benefit from our training, to support them to combat isolation, grow in confidence, and develop their advocacy skills. Having now brought our approach to refugees, migrants, seniors in the workplace, women who've faced domestic abuse and entrepreneurs, we used this period of social-restriction to reach out to new communities such as those with rare diseases.
"I have learned how I can connect with others, improve my listening skills and how I can influence other people" Ozra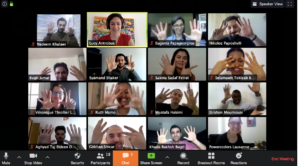 "I've learned how to reflect and GROW, to listen and lead" – Marzieh
Photo: taken from one of our virtual confidence-building workshops with Powercoders, a coding academy for refugees. One participant described the connection between the group as being 'like 5G' in its strength, as a result of our workshop.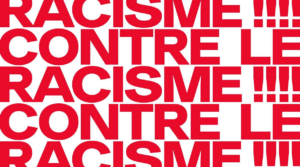 We were proud to be invited by Lausanne's department for integration (BLI) to use our confidence-building approach to build up local residents' personal power and grace in combating stigma during anti-racism week in March. In light of physical restrictions of the covid pandemic, we refocused our strategy to virtual storytelling, highlighting real life stories of combating adversity to showcase the strength of diversity, and how we can step by step make progress towards a more equal and inclusive society. We shared these messages through personal stories from our refugee community, as well as other citizens of the Lausanne/Vaud region, to highlight courage and resilience from diverse portions of society. This included anecdotes such as "Racism is anchored in fear, and fear is rooted in the unknown."
Storytelling spotlight: Senawbar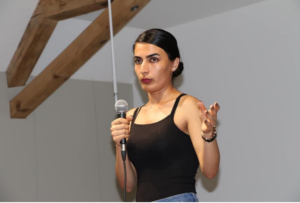 What makes our work super motivating, is to see the evolution of our participants as they become confident to express themselves.  It is heart-warming to see some of our alumni supporting the vulnerable during this time of global health crisis, despite the personal health risks they take on.
24 years old Senawbar (here pictured during one of our public performances), once a shy young lady from Afghanistan who found it difficult to make friends and contact with the local population, found the confidence to express her dream to become a doctor to help others, in particular the elderly. At the end of our programme, in front of a local and international audience in Lausanne, she took to the stage and spoke movingly about her family's long and hazardous journey to a safe country, her struggle for acceptance and integration, and finally now being able to grow her education and pursue her dreams. She is currently working as a nurse assistant for the elderly, supporting a community at risk.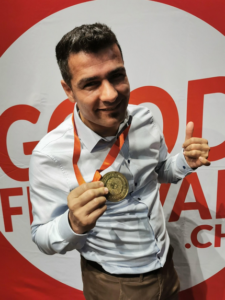 Senawbar is not the only participant who is placing her dream to contribute to society at the forefront.  Week on week we saw Senawbar and others like her progress in their capability to express themselves and demonstrate their strengths, and move closer to their goals and personal fulfilment. Ajmal (also pictured), is a participant who took to the stage to receive our Inclusion Award from the Good Festival. He is currently working as a volunteer to support people with hearing loss.
Refugee Voices is an innovative NGO, based in Lausanne, Switzerland. Their aim is to build confidence among young migrants and other marginalised groups in the region, by programmes that take people on a journey from timidity to confidence, that empower you to "find your voice" through their expert facilitation.  Refugee Voices has made significant progress since their creation in March 2019, winning three awards for social innovation and diversity-inclusion, including the SINGA Community Prize and Good Festival Jury Prize.  
Reach out to them to see how your organisation could benefit from the Refugee Voices magic! Refugee Voices are always seeking new collaborations to scale their impact and empower more communities.  Likewise, they have just started a new programme to build confidence and storytelling capabilities (with a twist ;)) — reach out to see how you can get involved!  For more information, go to:
www.facebook.com/voixderefugies
www.linkedin.com/company/refugee-voices
www.instagram.com/voix_de_refugies
It will be our pleasure to host Lucy Antrobus on one of our 2020 Congress panels dedicated to Migration.
Featured Image: group photo after sharing stories of courage, perseverance and inspiration at the finale of the programme.