In 2017, the UNESCO Category I institute, the Mahatma Ghandi Institute of Education for Peace and Sustainable Development (MGIEP) oversaw the publication of a youth-led guide on the prevention of violent extremism through education. The 324-page document is a collation of over 150 case- study submissions from young educators from more than 50 countries. This guidebook, together with its abridged version available in English, French and Arabic, and offers a set of guidelines for Prevention of Violent Extremism (PVE) to teachers, policy makers, families, religious leaders and anyone interested in exploring the relationship between education and PVE.
Below is an article from an interview with the PVE-through-Education Specialist at UNESCO's MGIEP, Simon Kuany, who led this project.
---
Background
---
The idea of producing this publication came up during the first conference organized by UNESCO on preventing violent extremism, held in New Delhi in 2016. Because young people are central to discourses on sustainability and peace, the organizing team invited accomplished youths from all over the world to contribute to the dialogue. At the conference, we circulated policy guides to be reviewed by the policymakers present. It was here that the young people in attendance said, "Well, violent extremism revolves around us; the majority of the victims are young, the majority of perpetrators are young, and most of the people actually doing something about the problem are young". So, they suggested developing a publication which would serve as a guide, one which captures the voices of young people, their experiences and research. After a series of workshops around the world, mostly from the Asia-Pacific region, #Youth-Waging-Peace was born.
The reason for developing this publication is not that there aren't a great many resources on preventing violent extremism. The difference with this one is that it is harnessing the voices of young people to provide new insights and perspectives on action plans that would make ongoing prevention efforts stronger. With this publication, we are also seeking to highlight a point which is often overlooked, i.e. we can only connect effectively with the youth if we respect their ability to fully understand the reality of inequity, intolerance and injustice in the world around them.
---
How GCED is incorporated in the publication
---
GCED is an integral entity of UNESCO, so everything we do, from our policies to ICT-based interventions, is all developed with this in mind. The Prevention of Violent Extremism programs are no exception; we incorporate the three conceptual dimensions of GCED (cognitive, socio-emotional and behavioural) in practical ways. So, in the guide, there are, for instance, recommendations for teachers on how to design classroom activities which would have young people discussing controversial issues such as violence. Through this, they can develop their critical thinking skills. There are also various practical and helpful recommendations on how they can lead projects to build resilient communities, meeting the behavioural component of GCED.
Also, an entire chapter in the publication has been dedicated to how these competencies can be developed among young people outside the formal education setting. There are useful tips on how arts, sports and other extra-curricular activities can be used as mediums to engage young people on issues to do with building peaceful co-existence. In all, I can say that the recommendations in this publication are drafted to build GCED-competency among young people.
---
"YOUTH WASHING" and insufficient resources
---
Having worked with young people all these years, I have come to see GCED to be quite esoteric as a learning tool; it is only understood by a small group of people who are specialized in it and, as a result, have some level of interest in it. In my opinion, this is one of the problems hindering the full realization of what it is meant to achieve. Even UNESCO itself and a lot of other entities working around this issue have not done much to concretize GCED. Take UNESCO's document on the GCED, for instance. It does not go as far as proposing concrete actions, such as how teachers, parents and young people can design activities to build these skills.
I have had young people whom I work with ask me how critical thinking as an important GCED competency can be taught or learned. Because the Mahatma Ghandi Institute of Education for Peace and Sustainable Development (MGIEP) is a research institute, the first thing we did when we were founded was to find concrete ways of embedding GCED in classroom exercises daily. Personally, this helped me to explain in a practical way how essential skills such as critical thinking and empathy can be developed.
An even bigger challenge young leaders face in becoming model Global Citizenship Educators is the lack of resources. It is easy to train young people on these issues, but the real challenge is how do they implement the knowledge and skills acquired at these trainings in their communities where they are most needed? Most of the people we train are either students or young professionals who do not have the financial capacity to run workshops in their locales to spread the knowledge. What we try to do is to financially support the follow-up activities of some of our trainees, but we can only support so many.
In a skewed bid to address this, some organizations are engaged in youth-washing. This is a trend where young people are used as a front to make them feel represented, but these adults at these organizations do not regard the youth as equal partners. However, we are making slow but steady progress toward getting a few organizations to take young people seriously. We need more organizations to rise above the rhetoric and put their money where their mouths are by supporting young leaders working to improve the lot of their generation and those after them.
---
Sameer's story
---
During a typical training workshop in India, we had a participant from a marginalized community. He was called Sameer. Throughout the workshop, he kept going on about how we ought to go beyond the theory into action; he didn't care much for theory. He was particularly eager to find out what he could do in his individual capacity to instil some of the skills and knowledge he had acquired in other young people within his community. Shortly after the workshop, which had lasted for three days, I got a surprise email from him. It was a one-page proposal of activities he thought of doing with parents and teachers in his village. I helped him to properly design it, and barely two weeks after the workshop, he was moving from house to house, sensitizing parents on the very things we had discussed during the training. By taking this initiative, he has made it easier for UNESCO and MGIEP to support him in expanding his outreach program.
---
Building social and emotional skills through global issues
---
One thing I have realised is that our inability to talk deeply about global issues such as violence and nationalism is a huge problem in the prevention of violent extremism. We tend to sidestep these issues, either because they make us uncomfortable or because they go against our self-interest. There is an unproven oxymoron that some of the people preaching peace are complicit in the wars they are publicly seen to be condemning. It's the same with migration; we shy away from addressing the root causes for similar reasons.
As a refugee from South Sudan growing up in Kenya, I have come to learn that creating space for people to connect emotionally is the one sure way of developing social and emotional learning. These unsupervised learning approaches are different, in that they are not forcibly making people from different backgrounds live together to find a solution, but instead making room for them to experience each other emotionally. I believe this is more transformative.
For instance, when I was growing up in Kenya as a refugee, it took my family quite a while to integrate with the locals. The integration process came about when we the children went to the same schools as Kenyan kids and played soccer together on the same pitch. And this was how we gradually began to experience each other. Regardless of our differences, we were able to connect on an emotional level through spaces that enabled unsupervised learning. Even in India where I now reside, I feel the emotional barriers between me and them (the locals) coming down when I interact with them on the trains or when I go to buy vegetables from the markets. I think this is what the so-called experiential social-emotional learning is trying to do: create these unsupervised spaces for people to experience each other on an emotional level. And this is as important as a concrete intervention for migration- or diversity-related conflicts, for instance.
---
About UNESCO MGIEP
The UNESCO Mahatma Gandhi Institute of Education for Peace and Sustainable Development (MGIEP) is UNESCO's category 1 Research Institute that focuses on Sustainable Development Goal (SDG) 4.7 towards education for building peaceful and sustainable societies across the world. In line with its vision of 'Transforming Education for Humanity', the institute's programmes are designed to mainstream Social and Emotional Learning in education systems, innovate digital pedagogies and to put youth as global citizens at the centre of the 2030 agenda for Sustainable Development. For more information, please visit the website.
---
Relevant Links
Rethinking Youth Programme – https://mgiep.unesco.org/social-and-emotional-learning-for-youth
#KindnessMatters Campaign – https://mgiep.unesco.org/kindness
---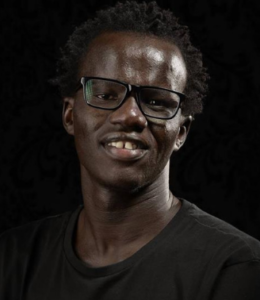 A global nomad from South Sudan, Mr. Simon Kuany completed his high school education in Kenya while a refugee and went on to earn the Indian Council of Cultural Relations and Symbiosis International University Joint Scholarship, where he finished his MBA, graduating as a gold medallist. An activist by nurture, Kuany is trained in Inquiry Oriented Education, Paul-Elder Framework for Critical Thinking and had curated workshops for young leaders around the world.
At UNESCO MGIEP, Kuany is specifically in charge of #YouthWagingPeace, TAGe and the overall PVE-E coordination. He also worked on the Institute's flagship Libre Framework, which aims to build socio-emotional competencies and other global citizenship skills focusing on global issues such as migration, violence, nationalism, democracy, etc.
He is the author of the Enlightened Darkness – an intimate meditation on the causes and consequences of the Sudan's longest civil war.