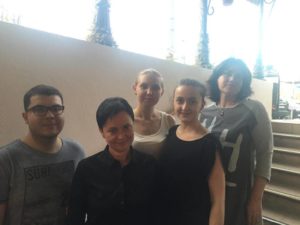 The SIETAR Russia Board from left to right :
Sergey Filatov – the Vice President
Dr Yulia Taratuhina – President
Irina Bleskina – Treasurer
Khatuna Abashchidze – Junior Team Leader
Dr Lyubov Tsyganova – Board member
---
What started your interest in intercultural issues ?
I have always been very interested in traveling. As of today I have visited 60 countries, some of them several times, and every time I was surprised and even amazed by how digging into another culture widens one's horizon. It has been almost ten years since I became interested in research describing and explaining intercultural differences in behavior, values, customs and ways of working with information.
---
SIETAR Russia is a newly formed national association. What inspired your desire to form it?
Over the years I have taken part in conferences and met with other research workers and practitioners interested in this intercultural work. I really wanted to unite these people, to make all our explorations cumulative. Eventually that led to our founding SIETAR Russia. We want to thank Anna-Claude Lambelet for her support of this process, by the way.
Russia itself is a multinational country, and this fact heightens local interest in the topic. Moreover, our interest in communicating efficiently with foreign colleagues from various spheres has recently increased a great deal.
---
What are the objectives of SIETAR Russia for 2018 and beyond?
One of our major objectives for 2018 is to encourage links between research workers and practitioners in Russia and the CIS countries who are interested in the theory and practice of intercultural cooperation. We already have a network of contacts with academic centers and universities in various parts of Russia: in Povolzhye (Middle Volga region), the Northern Caucasus, Ural, the Far East, etc. Each of these centers has workgroups that involve collaboration between research workers, business practitioners, volunteers and students. We plan to start up similar workgroups in a series of CIS countries (Armenia, Georgia, Uzbekistan, and Kazakhstan) as soon as possible.
This year we have already held seminars on the development of cultural intelligence in the Northern Caucasus (Pyatigorsk) and spoken at one of universities (RGGU, Moscow). Members of SIETAR Russia (Sergey Filatov and Irina Bleskina) attended SIETAR Switzerland's 2018 Lugano Congress and also spoke at several business conferences. We have also participated in various scientific conferences related to aspects of intercultural communications.
This year we plan to hold webinars on developing tolerance, teaching multicultural audiences, and communicating efficiently about business with the representatives of various cultures. In July Lyubov Tsyganova and I will hold a series of seminars in Povolzhye related to the development of intercultural competence in various professional spheres.
In October we plan to take part as participants and sponsors in SIETAR Europe's conference in Saint Petersburg. We have already started active arrangements. In November we want to hold an online conference called "Smart e-learning in a cross-cultural environment" and then publish the resulting papers with Springer. We also plan to create an English blog popularizing various sides of Russian life, which should be interesting to foreign colleagues.
We have an extremely strong board committee. It is a union of research workers and practitioners. In my opinion, it is great that we have put together a mixed-age team. We also have a very dynamic and promising Junior Team which unites volunteers, students and young specialists. The basic objective of the junior team is to provide tolerance training to students and youth.
---
As a university researcher and lecturer, how do you see the bridge between research and practice? What can interculturalists do to improve the way trainers and coaches communicate and work together with researchers?
To promote intercultural cooperation, it is necessary to create university courses, exchange experiences with foreign colleagues, and participate in conferences, seminars, webinars, trainings, and consultations. We have a great interest in this work being carried out jointly by research workers and practitioners. We'll also encourage the reading and writing of methodological and popular literature in the intercultural field.
---
Your own area of research is intercultural communication with an emphasis on cross-cultural didactics. Can you tell us a bit more about your current work? I think you recently co-wrote a book with another member of the SIETAR Russia board. Perhaps you could tell us a bit more about it.
Many instructors today experience practical difficulties when working with multicultural students. Given this situation, it is necessary to develop cross-cultural didactics as a branch of pedagogy. Work in this field will make the educational process in a multicultural atmosphere more comfortable and efficient for all participants. The culture of every country influences the educational process and to a large extent regulates it. This fact makes the educational content; the values, objectives, and techniques of training; the pedagogical discourse; and the development of the educational path culture-specific. Taking these factors into consideration can make teaching in a multicultural atmosphere more results-oriented.
Not long ago Irina Bleskina and I published a book dedicated to this subject, and we have some papers on the topic as well. Lyubov Tsyganova and I are waiting for the publication of our book Intercultural Communication in the Information-oriented Society. In it we also consider the digital side of teaching in a multicultural context.
---
How do you see the profession of intercultural training evolving in your country in the next five-to-ten years? Any caveats for intercultural trainers? Any key areas of focus?
The development of cultural intelligence and intercultural competence in the modern world will become more and more popular. Russia is no exception. We predict a growth of interest in professions connected to cross-cultural consulting, training and coaching.
Cross-cultural competence will also be needed in educational and business coaching. The entertainment industry and IT-specialists (developers of computer games or mobile-phone applications oriented towards specific countries or websites with culturally adapted interfaces, for example) will need intercultural training as well.
---
Do you have an intercultural anecdote or a funny story to share with us?
I have an illustrating of our mindset:
Signs reading NO SWIMMING! and HANDS OFF! are major challenges for Russian people!
---
Yulia Taratuhina, PhD, is an Associate Professor at the National Research University in the Higher School of Economics, Faculty of Business and Management. She is the head of the Teaching and Learning Office. Her research interests are intercultural communication and cross-cultural didactics. Since 2009, she has written more than 80 research papers and books.