An interview with Pesche Eigenmann, International Relations Officer at the Bern University of Applied Sciences.
---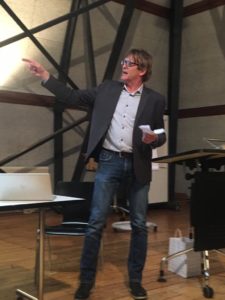 In 2014 the Bern University of Applied Sciences began offering the Certificate of Global Competence to its students. The aim of this certificate is to provide students with "excellent preparation for a professional future in a globalized context".
---
What do students have to do to accumulate the needed points to be awarded this certificate?
There are specifics in the implementation depending on the respective department. Generally, the students would have to state their interest and collect enough points to create a personal Portfolio of Global Competence. What this means is that, they would have to accumulate points in different areas to be awarded the certificate. So interested students must show that they have an understanding of the concepts and frameworks around which Intercultural Competence evolves. They also have to prove that they are proficient enough in a foreign language to interact professionally. Another requirement is to live abroad for a period and/or participate in cross cultural activities within Switzerland. Once they are able to fulfill these requirements, they would then have to write a self-reflection report about a critical incident within an intercultural encounter.
---
How would you describe the level of participation among students?
Participation is moderate. We are happy with the absolute number of certificates we issued so far but we expected the interest in some specific departments to be higher. For example, we had hoped for higher interest among health students because in their professional lives, they would be interacting with people from different backgrounds who have diverse views about health and healthcare provision. By taking part in this program, they would get the skills needed to enable them to interact in a culturally sensitive manner. Also, we expected students from the school of wood engineering to be highly interested in this certificate since they are already exposed to working on international projects, thanks to the center for development cooperation being run by this department. Such a program would enhance their appreciation of the experiences they are acquiring through these projects. However, we run internal and an external analysis to further develop our offer to get more students interested in acquiring this certificate.
---
How are students supported to gain the necessary points needed to be awarded the Certificate of Global Competence?
We have descriptions on the website for all departments as well as some promotional material, like a testimonial video clip.
Further, we have counseling activities guaranteed for all students through their international offices in each department. Of course, this would have to fit in with the personal interest and capacity of the coordinator.
---
What would be the parameters against which you would measure the success of this program in five years to come?
One success element is to expand the offer within a network of partner-universities. At the time, it is a local offer in Bern. We aspire to create an international certificate.
We aim to have an increase of 20% in student participation.
We hope to create more awareness among employers to be able to prove the added value of the certificate for the career of our graduates.
---
Pesche Eigenmann (LinkedIn) was interviewed by Tawakalitu Braimah