An interview with Pauline Starrenberger, Student at the University of Fribourg
---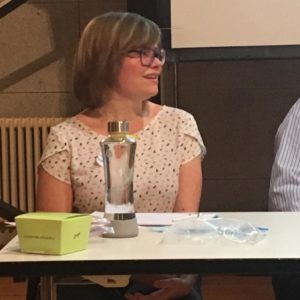 Pauline Starrenberger was the "student voice" on the panel. She is currently pursuing a Bachelor's degree in Education Sciences and French as a Foreign Language at the University of Fribourg.  Before this, she spent a year in the US on an au pair program and two weeks in Berlin. Pauline also helped organize short exchange trips for Chinese students to Switzerland. Here, she talks about what Intercultural Competence means to her and the challenges students tend to face when embarking on exchange abroad.
---
As a student with some experience living abroad, what would you say is the importance of Intercultural Communication/Competence?
Now more than ever, it is very common to work, live with, talk to and meet people who are very different from you. And you realize that even your parents or family are different too. So we need some tips and skills to be able to communicate and to live with them, regardless of differences in opinion. People need this skill set to be able to understand, respect and live in peace with each other.
Beyond its professional benefits, I personally think having a good appreciation of ICC makes you a better person; generous, open-minded, empathic, etc. We need these skills especially in these times when more people tend to be highly individualistic, caring only about themselves, their loved ones, country, ethnicity, etc. We need to find a balance to reach out to others and exchange on values.
I have come to realize that people are naturally scared of what they don't know. And it doesn't help that new technology and the media appear to be feeding stereotypes and clichés about different groups of people. When I was leaving for the US on an au pair program, my mum was so scared because of all the mass shootings we saw on TV. She came to visit me twice during my stay there and now, she has come to love my host family and talks about visiting California and Las Vegas.
I would like to share two food-related experiences I had when I was in the US, because food is important.
My host family in the US follows a special paleo diet. It was hard at the beginning, because I'm not the kind of person who would strictly follow a special diet without medical reasons (allergies and so on). But I eventually got used to and even liked it, it was a big part of my stay there. The family gave me books about this diet, we often talked about it and I got to understand their reasons for sticking to it.
Similarly, an au pair friend of mine lived with an orthodox Jewish family who didn't mix meat and dairies (if I remember correctly). So they used two separate fridges and spate sets of plates, forks, knifes, and pans. When my friend wanted to eat meat with a creamy sauce, she had to use plastic dishes. She once explained the religious reasoning behind this to me, but I can't quite remember the specifics. However, I could understand why they were doing that although I thought it was more difficult to follow than my host family's diet. Once my friend and I ate out together and we both ordered meals that we weren't allowed to eat around our host families; pork for her and probably pasta or a wrap for me.
I liked her because we had something in common. Others couldn't understand why we accepted to follow special diets. My answer is; why not? I did not only get to encounter the American culture, but I got to experience another family's culture as well.
---
In your experience, do you think there is enough support for students like yourself who are interested in encountering other cultures through on-boarding programs?
A few friends and I help organize a short stay program in Switzerland for Chinese students. Apart from us, I doubt if anyone else in the university knows they would be coming. I am not sure of the possibility of this, but it would be nice to send an email inviting students who might be interested in interacting with them. But then again, I know that these visits are usually during vacations when students would most likely be unavailable.
As it stands now, for students in Switzerland, such exchanges are only possible for a semester or a year, which is really nice. But it involves quite a lot of investment; (time, energy, money and the emotional bargain of leaving behind one's loved ones over a long period) before, during and after your stay. My friends and I from the workshop would love to visit China as well on a similar short stay program without having to put in too much resource.  It is our desire to meet and interact with people there, discover the country, the traditions and to enjoy some Chinese dishes (we had fondue together recently and it was really a nice moment). Unlike us, these Chinese students who take part in these exchange programs do not have to spend hours organizing everything like I am doing now for my intended semester stay in Montreal. I would like universities here to consider a similar short stay program for students.
---
Pauline Starrenberger was interviewed by Tawakalitu Braimah