It is one of the great paradoxes of much work in the field of inclusion that it takes as its starting point difference rather than commonality, what separates us rather than what we share.
The intentions behind such an approach are, of course, good. Where the participants in a dialogue around differences have the tolerance and empathy necessary to listen without judgment, and the generosity and maturity, both emotional and intellectual, to accept and give space to the other's otherness, the results can take us beyond mutual understanding to genuine mutual enrichment.
The risk – especially in a context like the current one, in which fear of the other is being constantly instrumentalized to political ends, resulting in a rise in populism, sectarianism and openly divisive discourse across the world, increasing encroachment on the mainstream by those promoting extremist worldviews, and the shameless scapegoating of the weak and vulnerable – is that the mere fact of bringing up our differences can cause those on either side – for this is how we are now conditioned to see ourselves, divided into 'us' and 'them' – to raise barriers. Once the conversation turns to historic grievances and demands for compensation, existing divisions can be reinforced. And sadly, we cannot always rely on our institutions to facilitate efforts to make the changes required to foster greater inclusion, since, more often than not, they have been designed to resist change and preserve the status quo.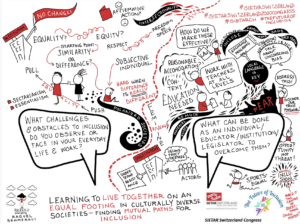 The more than 80 participants in the interactive session held on Thursday October 29th, expertly guided by our four panelists, Maya Hertig Randall, Jillaine Farrar Schmidhauser, Miguel Carvalho da Silva and Alaeddine Touhami, considered all of these obstacles and challenges, and yet emerged from breakout sessions with messages of hope and optimism. Asked to reflect on what can be done by individuals, by educators, by institutions and by legislators to create the conditions required for a culture of inclusivity to flourish, they returned with a rich bounty of suggestions – and good-humoured frustration that their discussions had been forcibly curtailed in order to respect the evening's timing.
Starting from the premise that the first thing to look for is common ground – and that, if our objective is inclusion, that common ground is our shared humanity – there was a general agreement that the prevalent culture of competition and the binary ways of thinking which this culture encourages must give way to an approach based upon universal human values and virtues. Building the infrastructure to support such an approach is essential and requires very concrete actions – education, process design, the building of intercultural bridges, the intentional inclusion of all actors in every discussion – which together can bring us to a place where we see our differences through a lens not of opposition, but of complementarity.
However we label ourselves – be it as interculturalists, as educators, as citizens, as parents, as children – we must recognize that our identity is first as a human being and that this identity evolves over the course of our life, enriched both by our experiences and by our exchanges with others. Acknowledging that we are all, ultimately, multicultural – and accepting the multiplicity of identities within each and every one of us – is a key which can open the door to deeper exchange, even in conflictual situations, and contribute to ensuring that the evolution towards a culture of peace, inclusion and living together is not merely a philosophical exercise, but a true social project.
Illustration credit  Visual harvester, Raquel Benmergui